Description
State of Jefferson decals – custom made, exclusive to Jefferson Outfitters!
Made in the USA, top quality.*
4 different designs.
LOVE with SOJ seal 4 3/4 x 4 3/4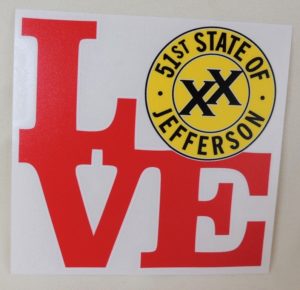 SoJ State outline with seal  5 x 5 1/2 (updated design shows the SE counties of Amador, Calaveras, and Tuolumne)
Crossed Flags USA and SOJ  5 3/4 x 3 (sorry sold out)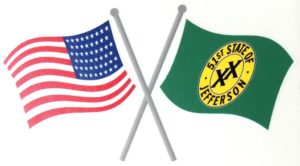 Don't Tread on Me (not custom) 6 x 3 1/2
* Auto-Graphs™ Brand Automotive Vinyl Appliques are the best quality on the market today! Knife-cut from solid, exterior grade vinyl, they're rated for a 3-5 year outdoor life, and go on the outside of car windows. In addition, there is no clear background – only the vinyl sticks to the window!
Tailor Made for Jefferson Outfitters!  You won't find these SoJ designs anywhere else! 
Design (c) 2015 Jefferson Outfitters